The 5 hot contests in the Klang Valley
14 Nov 2022, 00:00 AM SGT
Back to News
---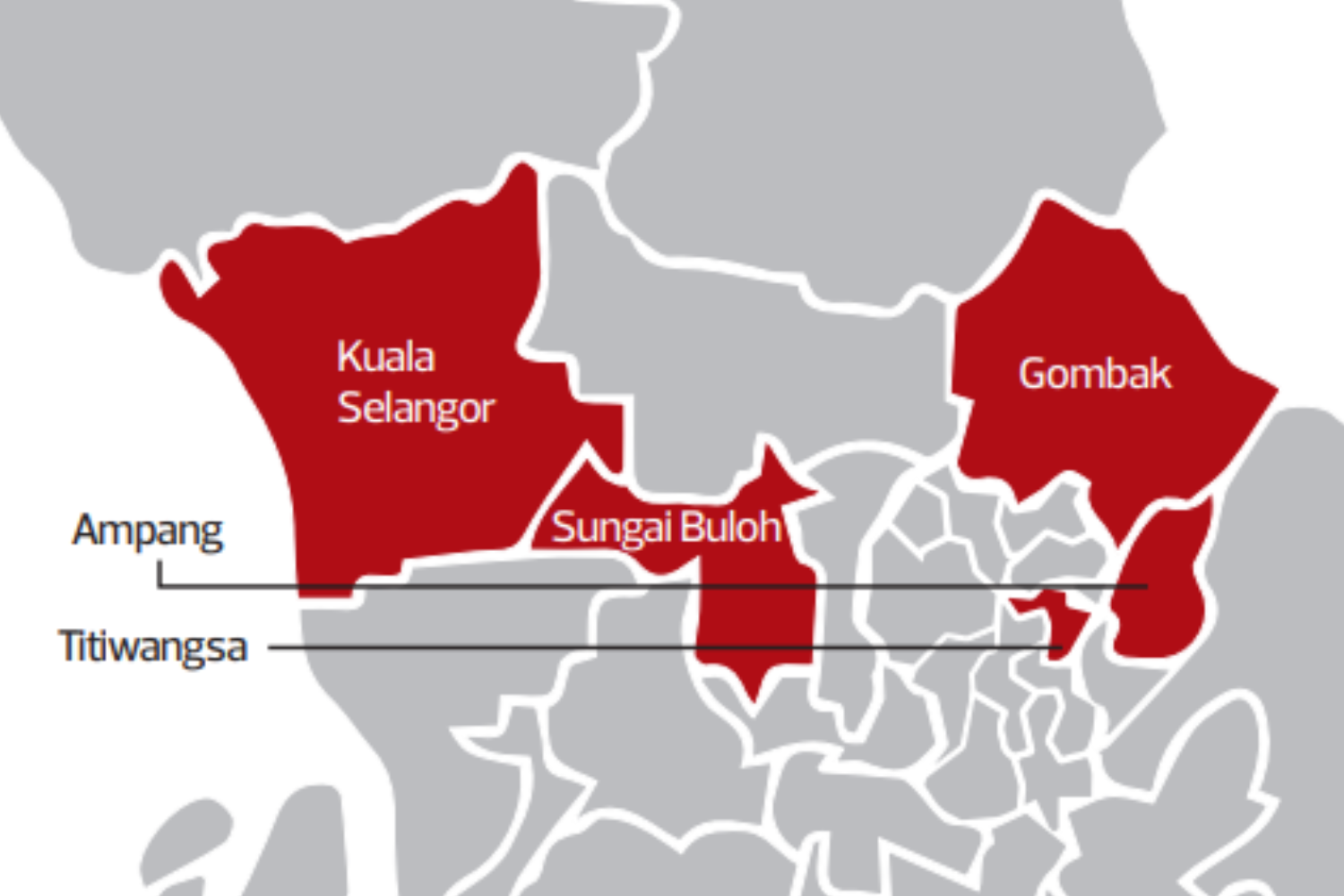 Seat 1: Sungai Buloh
A vote for the party or the candidate?
After the dissolution of Parliament, The Edge reached out to Khairy Jamaluddin for his views on GE15, its importance and likely outcome.
KJ as he is popularly known, replied in a short text message — "I'm not sure I am inclined to saying anything right now."
His silence then was understandable, as he was in political limbo not knowing if he will get a seat to contest, and where.
It is well known he is not in the good books of his party president Datuk Seri Ahmad Zahid who is the one who signs off the nomination paper for Barisan Nasional candidates.
In the end, KJ did get his seat — Sungai Buloh in Selangor which Pakatan Harapan won by an overwhelming majority in GE14. Zahid says KJ asked for it, but the candidate retorted saying it was because all other options were shut to him.
KJ was a three-term MP for Rembau in Negri Sembilan.
The Rembau Umno division chief is party deputy president Datuk Seri Mohamad Hassan. If 66-year-old Tok Mat, as he is known, had contested GE14 for Rembau parliament and won, he would have been prime minister (post-Sheraton Move and the collapse of Tan Sri Muhyiddin's premiership) and not Datuk Seri Ismail Sabri, who is only a party vice-president.
Tok Mat obviously did not want to repeat the same mistake and is viewed by certain quarters as a candidate for PM should BN form the government, even though Ismail has been named as the BN poster boy.
KJ, who is the son-in-law of former premier Tun Abdullah Ahmad Badawi, was Umno youth chief from 2009 to 2018 and has held ministerial portfolios such as Youth and Sports, Science, Technology and Innovation.
But it was his role as the coordinating minister for the national Covid-19 vaccination programme and later Health Minister that he impressed Malaysians and he is now touted PM material.
At 46, KJ is also popular among the younger Malaysians and those who want to see a fresh pair of hands steering the country.
In muscling KJ out of Rembau, Mohamad Hasan or Tok Mat is reported to have told KJ to "get out of his way".
And while Tok Mat is in a safe seat — the Umno stronghold of Rembau — KJ faces a stern test, as Sungai Buloh is a PH stronghold with PKR having won three successive elections. The 2018 majority was a whopping 26,634 votes.
According to the Election Commission as of Oct 9, this year Sungai Buloh has 158,090 voters. Out of these, 91,393 or close to 58% are below 40 years of age.
KJ's main rival is PKR's deputy information chief Datuk Ramanan Ramakrishnan.
At 41, Ramanan is five years KJ's junior and could also appeal to younger voters, but he doesn't have a public profile.
Earlier this month, when filing his nomination papers, KJ had told newsmen, "I won three elections in a row in Rembau, now I have come to a constituency we had lost in three elections in a row."
When asked if a loss in Sungai Buloh would end his political career, KJ retorted, "I am not ready to go yet."
Last week, during a huge ceramah in Sungai Buloh, KJ said he wants to one day be PM and that he wants to lead and reform Umno, which he says has lost its way. But to do that, he needs to win Sungai Buloh.
"Should I triumph in the general election, Sungai Buloh will not be my limit, as God-willing someday I want to lead Umno. And I want to be your prime minister. But I must win Sungai Buloh first."
Sungai Buloh's voter profile according to GE14 statistics is about 66% Malay, about 22% Chinese, and 11% Indian, with two percent under the others category.
Sungai Buloh is an urban constituency with the affluent Tropicana Golf & Country Resort, Ara Damansara and Kota Damansara housing estates in it. It is also well known for furniture factories and nurseries. Huge tracts of land which was formerly the Rubber Research Institute are being developed by Kwasa Land Sdn Bhd, a unit of the Employees Provident Fund.
With the 33% non-Malay voters traditionally more aligned to the opposition, and the Malay votes being split, wooed by seven candidates, it will be a hard do-or-die battle for KJ.
For Sungai Buloh voters, Nov 19 will come down to deciding this — the party (PH) they voted for in the last 3 GEs, or the BN candidate (KJ), who had impressed as Health Minister in the fight against Covid-19?
Seat 2: Kuala Selangor
Zafrul banking on role in saving jobs and businesses during pandemic to win
Taking up the post of finance minister at the start of the Covid-19 pandemic in March 2020 was a baptism of fire in government for former banker Tengku Datuk Seri Zafrul Aziz.
His life changed when he got the call from Tan Sri Muhyiddin Yassin. who had just taken over as Prime Minister and wanted to appoint Zafrul first as senator, and then finance minister. He would readily admit that the way government works is far different from the private sector that he has been in his entire life.
Zafrul says it was a call to duty that he could not say no to.
And because of this desire to continue serving the country, he had to enter politics officially after parliament was dissolved, by contesting in GE15.
But finding a seat was not easy as he was never an active Umno member. His first choice was Kuala Pilah in Negri Sembilan where he has family roots, but in the end it was Umno Selangor who found him a seat — the opposition-held Kuala Selangor.
Zafrul's main rival will be incumbent MP Datuk Seri Dr Dzulkefly Ahmad of Amanah/Pakatan Harapan.
Other candidates vying for the seat are Pejuang's Shaid Rosli, and Ustaz Mohd Noor Shahar representing Perikatan Nasional, who will be able to snare votes from Malay voters.
Nevertheless, the fight in semi-rural Kuala Selangor looks to be centred around 66-year-old Dzulkefly and his younger rival Zafrul. So far, both have campaigned in a gentlemanly fashion without resorting to personal attacks.
Dzulkefly is a known person in Kuala Selangor, having been the MP from 2008 to 2013 under a PAS ticket, and again from 2018 to 2022 with Amanah. In GE14, Dzulkefly won Kuala Selangor with a majority of 8,498 votes, beating both Barisan Nasional and PAS candidates.
Election Commission statistics in 2022 show that there are 102,951 voters in Kuala Selangor with 56,038 or 54.43% aged below 40. The 8,222 new voters who are between the ages of 18 to 20 make up about eight percent of the Kuala Selangor voter base.
Dzulkefly had actually announced months ago that he will not be seeking re-election and it was time to make way for a younger MP to look after the constituency, but the decision was reversed after it was known that Tengku Zafrul was joining the fray.
"I will defend the Kuala Selangor seat after Umno and Barisan Nasional decided to field Tengku Zafrul, because my opponent is a minister, so a former minister is coming down to fight…I think it's reasonable for me to obey the leadership of the party and also the recommendation from my voters who requested that I defend the seat."
Zafrul's entry into the election campaign has been a grand one, with a large number of flags and other election paraphernalia in Kuala Selangor. His campaign is also very active on social media.
How this bodes for the energetic and personable former banker in a town famous for seafood and littered with oil palm plantations and fishing villages remains to be seen.
While Khairy Jamaluddin made an impact with the vaccination rollout and protecting the healthcare system as Health Minister, Zafrul made his mark by devising various stimulus packages amounting to around RM110 billion in 2020 and 2021 to save the economy from collapsing.
These aid packages put cash in the hands of the needy, saved jobs and prevented thousands of businesses from collapsing due to lockdowns.
At 49, Zafrul is touted as a future leader of Umno and the country. But he first has to win over the people of Kuala Selangor on Nov 19.
Seat 3: Gombak
A mentor-mentee contest
When Datuk Seri Amirudin Shari was appointed as menteri besar of Selangor after GE14 in 2018, many people asked: Amirudin who? Even in the past few years, few people could put a name to the MB of Selangor. That is because the soft-spoken 42-year-old has maintained a low public profile and prefers to be in the shadow of his political mentor and the man who got him the MB job — Datuk Seri Mohamed Azmin Ali.
But all that has changed since Pakatan Harapan (PH) named him as the candidate to oust Azmin from the Gombak parliamentary seat, which the latter won in the past three elections.
In 2018, Azmin defeated Umno's Datuk Abdul Rahim Pandak Kamaruddin and PAS' Khairil Nizam Khirudin, winning by a whopping majority of 48,721, or about 63% of the votes. This was a great showing considering that 119,975 votes were cast.
However, Azmin's victory in 2018 was when he was under the PKR and PH banner.
Unlike then — when he was even considered a potential candidate for PM — his popularity has waned, and many are waiting to see if he will be punished by the electorate for playing a starring role in the Sheraton move, which brought about the collapse of the PH government.
Azmin's role in the Sheraton hangs much like an albatross around his neck as he led 10 PKR/PH MPs to join Tan Sri Muhyiddin Yassin's Parti Pribumi Bersatu Malaysia (Bersatu) and formed move the Perikatan Nasional (PN) coalition, which went on to lead the county for 17 months, before Umno ended Muhyiddin's tenure as PM. While Azmin and his band of 10 MPs have been called traitors for defecting, his group claimed they were forced to do so because of the infighting at PKR.
Other candidates for Gombak include BN's Datuk Megat Zulkarnain Omardin, Gerakan Tanah Air's Datuk Dr Aziz Jamaludin Mohd and independent candidate Zulkifli Ahmad.
An urban parliamentary seat, Gombak has 206,744 voters, some 51.42% of whom (106,317) are below 40 years old.
Amirudin was state assemblyman for Batu Caves after the 2008 and 2013 elections before moving to Sungai Tua in 2018. He and Mohamed Azmin are familiar with each other having worked together in 2014, when the latter was appointed menteri besar of Selangor and Amirudin was appointed state executive councillor for youth development and sports.
While Azmin's relationship with opposition leader Datuk Seri Anwar Ibrahim was strained even before the Sheraton move, the two have a long history. Azmin was Anwar's special officer when the latter was deputy president of Umno and deputy prime minister. He helped found PKR after his mentor was sacked and jailed in 1998/99.
In the run-up to GE15, some PKR MPs perceived to be close to Azmin when he was still in the party were dropped by Anwar, citing various reasons. Those dropped include Maria Chin Abdullah, former MP for Petaling Jaya, and Sivarasa Rasiah, former MP for Sungai Buloh.
Azmin claimed that Amirudin had told him he was being sent on a political suicide mission to take on his mentor. But if Amirudin pulls it off, his star within PKR/PH will shine brightly and no one will again say: Amirudin who?
Seat 4: Ampang
Two women who made their mark in PKR battle it out
Three-term Ampang MP Datuk Zuraida Kamaruddin, who is president of the newly formed Parti Bangsa Malaysia (PBM), is another incumbent MP who could be facing a challenging election campaign, with the odds seemingly stacked against her.
In GE14, she won the Ampang constituency under the PKR/PH ticket by a convincing majority of 41,956 votes, garnering 54,307 votes against Barisan Nasional's (BN) Leong Kim Soon's 12,351.
But Zuraida participated in the Sheraton move that ousted the Pakatan Harapan (PH) government in February 2020, when she and 10 other MPs left PKR for Parti Pribumi Bersatu Malaysia (Bersatu). This gave Bersatu and the then newly formed Perikatan Nasional (PN) coalition the power to form the government, bringing PH's 22-month administration to an end.
How the electorate views her role in the Sheraton move remains to be seen and will only be known on Nov 19 when they cast their votes.
Interestingly, Zuraida's jump from PKR to Bersatu did not last. In May this year, she left Bersatu to join PBM as its president. This means she has been with three political parties in less than two years, which may cost her votes.
She says of the impact of her changing parties on the election, "Ampang folk know me. When they see Zuraida's name, they usually don't even remember the logo. That's why I said Zuraida has become a brand in Ampang. "
But will the electorate forgive her for her role in the Sheraton move and for shifting loyalties? And will she be able to remain relevant if she does not make the cut?
In May, when she left Bersatu, the party president Tan Sri Muhyiddin Yassin sought to have her position in the government replaced by another Bersatu candidate. But PM Datuk Seri Ismail Sabri Yaakob decided to keep things status quo, for fear of upsetting the delicate balance that kept him in power.
There was also some drama when Zuraida joined PBM and looked to take over from existing president Datuk Larry Sng, who was supposed to make way for her. However, Sng fought the transition and attempted to stay on, but failed.
Zuraida's big plan to bring her party into the BN fold did not materialise and PBM is now standing against BN candidates for the seats it is contesting.
On the ground in Ampang, the feeling is that Zuraida may have an uphill task defending her constituency. She is up against PN's Sasha Lyna Abdul Latif, Pejuang's Nurul Ashikin Mabahwi, Warisan's Bryan Lai Wai Chong, PH's Rodziah Ismail, BN's Ivone Low and three independents, Tan Hua Meng, M Raveen and Muhammad Shafiq Izwan Mohd Yunos.
Ampang has 133,494 voters, of whom 48.73% (65,054) are below 40 years old. And how they view Zuraida will determine her political survival. The 64-year-old has rubbed both PH and Bersatu the wrong way, and her failure to make an ally out of BN prior to the general election could prove costly for her and PBM.
Her main rival will be 58-year-old Rodziah of PKR/PH, who is a three-term state assemblywoman in Selangor. Both Zuraidah and Rodziah were part of a large group of women who joined politics as the result of the Reformasi movement that swept the country after Anwar's sacking from Umno and the government in 1998.
Seat 5: Titiwangsa
A corporate figure plots his return
In Titiwangsa, three out of the four candidates are big names — Umno's Federal Territory chief Datuk Johari Abdul Ghani, Parti Amanah Negara's Khalid Abdul Samad and Pejuang's Datuk Seri Khairuddin Abu Hassan. The fourth candidate is newcomer Dr Rosni Adam of Perikatan Nasional.
The two favourites to win the seat are Johari, who was Titiwangsa MP for one term (2013 to 2018) before losing to Datuk Rina Harun of Parti Pribumi Bersatu Malaysia (Bersatu), and Khalid, who was a three-term MP for Shah Alam under the Amanah/Pakatan Harapan (PH) banner and currently serves as his party's communication director. Prior to being a member of Amanah, he had contested and won the parliamentary seat on the PAS ticket.
Unlike the other candidates, Johari could have an advantage as he had served the Titiwangsa constituency in the past and is said to have started preparations for the election early, having decided on his favoured constituency. He also hails from Kampung Pandan, which is part of the constituency.
Johari is a known corporate personality. His flagship CI Holdings Bhd is involved in manufacturing and packaging of edible oil. He has a 32.96% stake in the company. He also has equity interest in media outfit Media Prima Bhd (20.08%) and diversified group KUB Malaysia Bhd (32.96% stake).
Apart from his involvement in Corporate Malaysia, Johari — who is an accountant by training — was second finance minister from 2016 to 2018. He has served on the boards of government-linked entities, including sovereign wealth fund Khazanah Nasional Bhd and property developer UDA Holdings Bhd.
If Barisan Nasional does come to power again, Johari is likely to play a key role in the government. Those close to him say he is eyeing the finance minister's portfolio.
Khalid was minister of federal territories during the PH administration from July 2018 to February 2020, before the collapse of the government led by then premier Tun Dr Mahathir Mohamad. Prior to being a member of Amanah, he was a leader with PAS and had an eventful career in politics, even being detained by the government for nine months under the Internal Security Act following Ops Lalang in 1987.
With his strong views, Khalid is known as a firebrand, often at loggerheads with political opponents. He is also the younger brother of Umno veteran Tan Sri Shahrir Samad. Khairuddin, a close associate of Mahathir, is the nephew of Sulaiman Ahmad, better known as Sulaiman Palestine, an Umno leader from Penang in the 1970s and early 1980s. Interestingly, Khairuddin is also the cousin of opposition leader Datuk Seri Anwar Ibrahim, but they are bitter foes. Together with author Khalid Jafri, Khairuddin played a key role in the 1998 book 50 Dalil Mengapa Anwar tidak boleh jadi PM, which loosely translates to 50 reasons why Anwar cannot be PM.
Khairuddin has been very vocal, even opposing Datuk Seri Najib Razak and the then government's shenanigans at 1Malaysia Development Bhd (1MDB). While he may be the dark horse among the big-name candidates, his impact lies in the potential to split votes.
Titiwangsa has 80,747 voters, of which 42.95% (34,685) are below 40 years old. Women make up 50.16% (40,502) of the electorate, which could positively impact the fourth candidate, Dr Rosni.
Among the landmarks in Titiwangsa is the Malay settlement of Kampung Baru, which has not seen progress although next to the central business district of Kuala Lumpur
Read more in the Nov 14 issue of The Edge Malaysia weekly.
Get our comprehensive GE15 coveragehere.
Source: https://www.theedgemarkets.com
---