Supermax resumes share buyback as shares slip below 70 sen
21 Sep 2022, 00:00 AM SGT
Back to News
---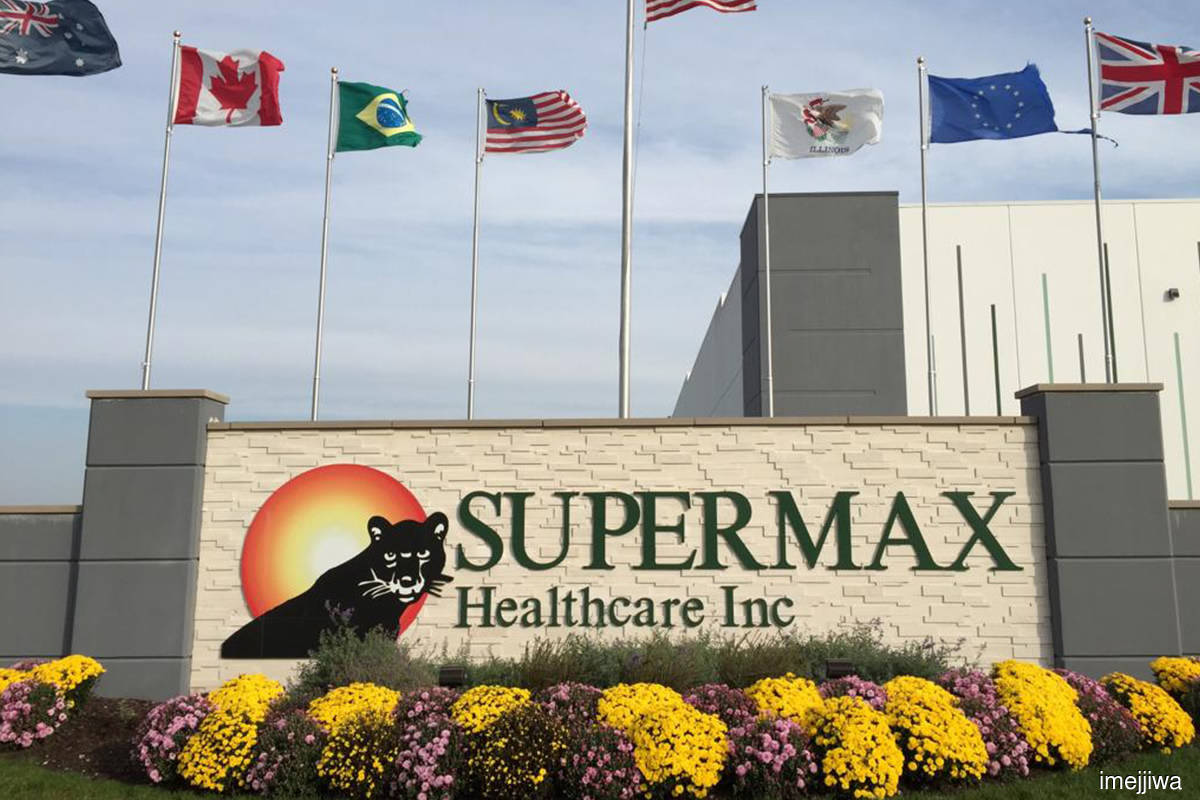 KUALA LUMPUR (Sept 21): Supermax Corp Bhd had in September 2022 resumed the glove maker's share buyback following an over four-month hiatus as its share price fell below 70 sen as investors weighed Malaysian rubber glove manufactures' business outlook against a Covid-19 vaccine-driven recovery from the impact of the pandemic which began in early 2020.
According to Supermax's Bursa Malaysia filings, Supermax resumed its share buyback on Sept 2, 2022 when the company purchased 3.2 million shares for RM2.39 million after paying between 73 sen and 75 sen for each security.
Following the share buyback, Supermax's cumulative number of outstanding treasury shares stood at 58.96 million, according to Supermax's filing on Sept 2.
Supermax had subsequently undertaken more share buyback transactions, the latest of which took place on Monday (Sept 19) when the company purchased 7.6 million shares for RM5.41 million at between 70.5 sen and 72 sen apiece.
After the transaction, Supermax's cumulative number of outstanding treasury shares grew to 75.76 million, according to the company's filing on Monday.
Prior to Supermax's share buyback resumption in September 2022, the company's last share buyback was on April 27, 2022 when the firm purchased 697,200 shares for RM770,450.84 or RM1.10 each.
Following the share buyback, Supermax's total number of shares retained in its treasury stood at 55.76 million, according to Supermax's Bursa filings on April 27, 2022 and May 10, 2022.
Supermax shares have been closely watched as its share price slipped below 70 sen.
Its share price extended losses on Wednesday (Sept 21) after closing down at 69.5 sen on Tuesday (Sept 20) from 71 sen on Monday.
At Bursa's 12.30pm break on Wednesday, Supermax settled down one sen or 1.44% at 68.5 sen with 7.27 million shares traded.
Supermax shares were traded at between 68 sen and 70 sen so far on Wednesday.
At Supermax's latest closing share price of 69.5 sen on Tuesday, the company has a market value of about RM1.83 billion based on Supermax's estimated 2.64 billion outstanding shares, according to the group's latest quarterly financial report.
In a Bursa filing on Aug 22, 2022, Supermax said net profit fell to RM33.05 million in the fourth quarter ended June 30, 2022 (4QFY22) from RM962.53 million a year earlier.
For the full year, Supermax said cumulative FY22 net profit dropped to RM732.43 million from RM3.82 billion a year earlier.
Looking back, Supermax was closely watched as a beneficiary of the Covid-19 outbreak which started in early 2020, as demand for rubber gloves, seen as a crucial piece of personal protective equipment, surged to curb the global spread of Covid-19.
However, Covid-19-driven demand for gloves is now seen normalising as global vaccination progress leads to anticipation that the Covid-19 outbreak can be curbed.
Such sentiment is reflected in Supermax's share price, which has been adjusted for the company's one-for-one bonus share issue under which 1.36 billion bonus shares were listed and quoted on Bursa on Sept 8, 2020, according to Supermax's Bursa filing then.
Supermax's current share trade dynamics are also seen against broader market weakness ahead of the US Federal Reserve's Wednesday interest rate decision to fight inflation.
It was reported that stocks in Asia sank and bond yields were elevated on Wednesday, as investors braced for another aggressive interest rate hike from the the US Federal Reserve later in the day.
At Bursa's 12.30pm break on Wednesday, the FBM KLCI settled down 5.98 points or 0.41% at 1,455.12.
The Health Care Index, which tracks share prices of companies including glove makers, fell 0.58%.
At close on Wednesday, Supermax shares settled 2.2% lower to 68 sen, at a market capitalisation of RM1.85 billion
Source: https://www.theedgemarkets.com
---