Hartalega slips under RM2, Kossan falls below RM1
15 Aug 2022, 00:00 AM SGT
Back to News
---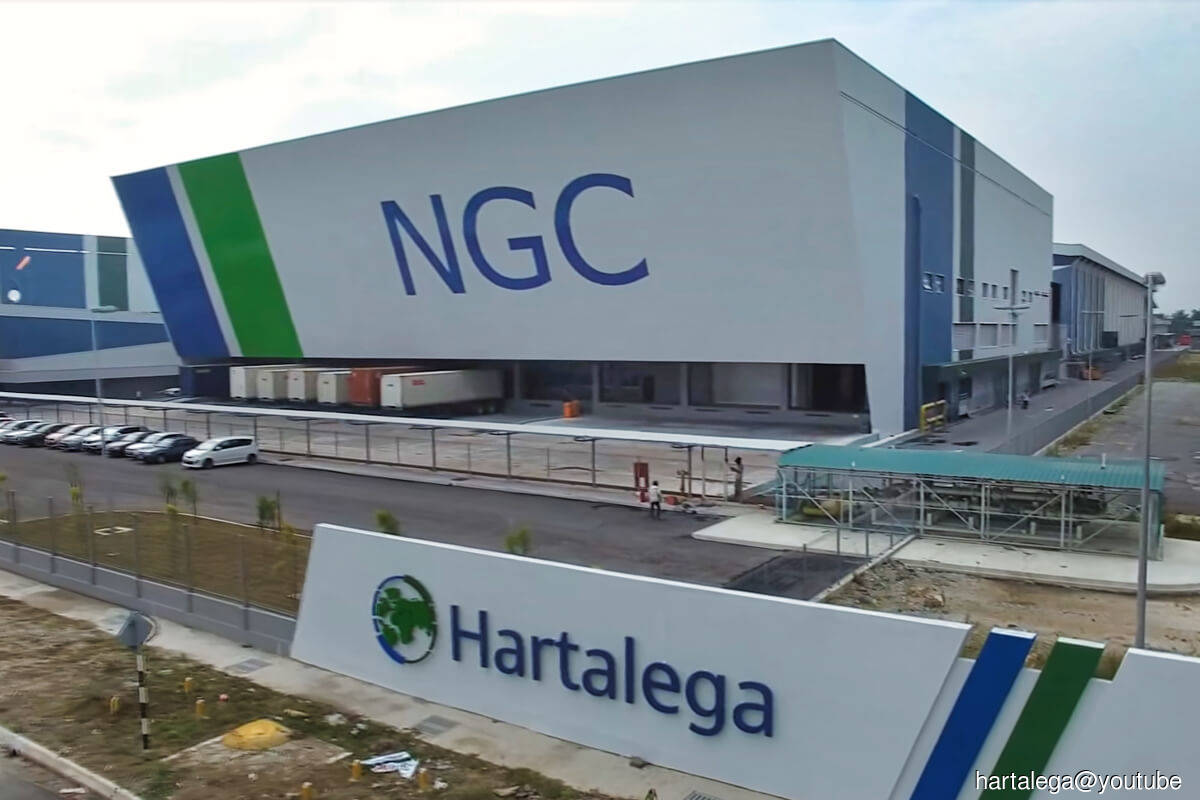 KUALA LUMPUR (Aug 15): Hartalega Holdings Bhd slipped below RM2 on Monday (Aug 15) after falling as much as 15 sen or 7.5% to RM1.85 while rival glove maker Kossan Rubber Industries Bhd fell past RM1 to its intraday low at 97 sen as investors evaluated the post-Covid-19 business outlook for rubber glove makers that registered a jump in sales during the crucial phase of the outbreak, which started in early 2020.
The last time Hartalega dipped below RM2 was April 28, 2017 when it saw RM1.99 while the last time Kossan dropped below RM1 was March 6, 2015 when it saw 99 sen — according to Bloomberg data.
Hartalega, which ended the day at RM1.86 — down 67.54% year-to-date (YTD) — saw 50.57 million shares exchanged hands, ranking the stock at seventh among Bursa Malaysia's top actives. The counter was also fourth on Bursa's top losers list.
Last Tuesday (Aug 9), Hartalega saw its net profit for the first quarter ended June 30, 2022 (1QFY23) slumped to RM88.28 million from RM2.26 billion a year earlier as the rubber glove manufacturer's revenue dropped significantly as average selling price (ASP) and sales volume of gloves declined after rising to a record high during the Covid-19 outbreak.
Additionally, the Employees Provident Fund's sold 5.09 million shares in Hartalega last Wednesday (Aug 10), paring down its stake to 6.667%, according to its bourse filing on Monday.
Meanwhile, Kossan closed at 98.5 sen on Monday after falling as much as 9.34% or 10 sen earlier in the day to 97 sen from its previous closing share price of RM1.07. The counter was ranked sixth on Bursa's top active list. YTD, Kossan has fallen 48.7%.
EPF currently holds a 5.59% stake in Kossan, according to its bourse filing on Aug 12.
As for their two other peers, Top Glove Corp Bhd settled six sen or 7.02% lower at 79.5 sen after the counter traded between 77 sen and 87 sen, while Supermax Corp Bhd settled three sen or 3.82% lower at 75.5 sen after the stock transacted at between 75 sen and 79 sen.
Hartalega, Kossan, Top Glove and Supermax are constituents of Bursa's Healthcare Index.
Meanwhile, Top Glove and Hartalega are also members of the FBM KLCI.
The benchmark FBM KLCI finished the day down 2.18 points or 0.14% to 1,504.01 while the Healthcare gauge fell 34.49 points or 2.15% to 1,572.95.
The Healthcare gauge, which also tracks the share prices of pharmaceutical companies and hospital operators, was the largest-percentage decliner among Bursa's 30 indices.
Seek more clarity before investing in glove stocks, say glove analysts
Earlier this month on Aug 3, the Malaysian Rubber Glove Manufacturers Association (Margma) said global demand for rubber gloves is expected to return to growth in 2023, after a 19% contraction to an estimated 399 billion pieces this year, from 492 billion in 2021 when the world was at the peak of the Covid-19 pandemic.
Meanwhile, theedgemarkets.com last Friday (Aug 12) reported that a total of RM31.18 billion in market capitalisation was wiped off across seven glove manufacturers on Bursa since the beginning of the year.
Subsequently, glove analysts told theedgemarkets.com on Monday that investors should seek more clarity aside from applying a wait-and-see approach if they decide to invest in glove stocks at the current juncture.
BIMB Securities analyst Nursuhaiza Hashim does not see value emerging for the glove players as the outlook for the industry remains dim.
She takes the view that the gloves industry's supply-demand disequilibrium may take longer than expected to normalise in view of intense competition resulting from an oversupply market, leading to further ASP decline.
"Besides, we see insignificant recovery on sales order volume. All big four players' utilisation rates now are running below 70%. On top of that, shipping vessel constraints and labour shortage still persist.
"Year to date, share price for top four glove players has declined circa 48%-69%. We do not rule out that there could be another round of selling pressure for the glove counters.
"Thus, I think it is better for investors to apply a wait-see-approach on the glove industry," she said.
KAF Equities analyst Nabil Fikri Zainoodin observed that the market has priced in the possibility of loss-making quarters ahead for glove manufacturers, with earnings recovery only expected to be seen in FY23.
"However, we still see the risks as tilted to the downside. There is extremely limited visibility at the moment on how long it will take before demand-supply dynamics achieve equilibrium," he said.
Looking at the current oversupply situation, Nabil foresees a prolonged period of soft ASP and low plant utilisation rate ahead.
This is besides the rising input costs and structural changes in the glove industry, such as higher social compliance standards as well as more countries now working towards self-sufficiency in glove production, as there could be a major downward shift in acceptable profit margins.
"Hence, we think it may take a while for earnings to get back to the pre-pandemic level. Considering these risks, we would advise investors to wait until more clarity emerges," added Nabil.
Read also:
RM31 bil market cap wiped off from seven glove stocks since January
Esther Lee & Chong Jin Hun
Source: https://www.theedgemarkets.com
---